How Tenkyuu Chimata Stole the Precious Market
A downloadable game for Windows and Linux
Tenkyuu Chimata stole the precious Pride Jam 3
I played MarisaLand Legacy recently, and it made me realize how much I missed simple "Super Mario Bros. 1"-like platformers, where you mostly press right and the levels aren't so tricky, so you can run through them with relatively little practice. Thus, the seed to making this game was planted. And then I "messed" it up by adding Metroidvania elements...
Help Tenkyuu Chimata from the Touhou Project climb the Youkai mountain. There are several passive and active abilities you can find to help you climb, but these are entirely optional. Explore the mountain scenery at your pace, and make friends along the way, or trust in just your platforming skills and run past it all!
Made in 2 weeks as part of Touhou Pride Game Jam 3


CONTROLS
Arrow keys: Move left/right
Z: Jump
X: Run
C: Use active ability / Interact with environment (context dependent)
D: Cycle through active abilities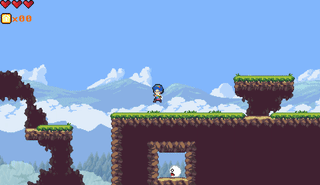 Run, Jump, Obtain a flower and throw flowers. This and more!
ADVANCED MECHANICS

You can reach a faster running state by holding the 'X' button and running for a short distance. This increases the height of your jump slightly.
If you turn around mid-air (as opposed to on the ground), you can maintain this running state while changing directions.

Change direction while maintaining your running state by turning mid-air.


Touhou Project original concept, characters, and other elements are the property of ZUN and Team Shanghai Alice. This game is a fanmade work made according to the official guidelines. It is not affiliated with or endorsed by the original creators.
Install instructions
Extract the zip file and run the executable to play the game.