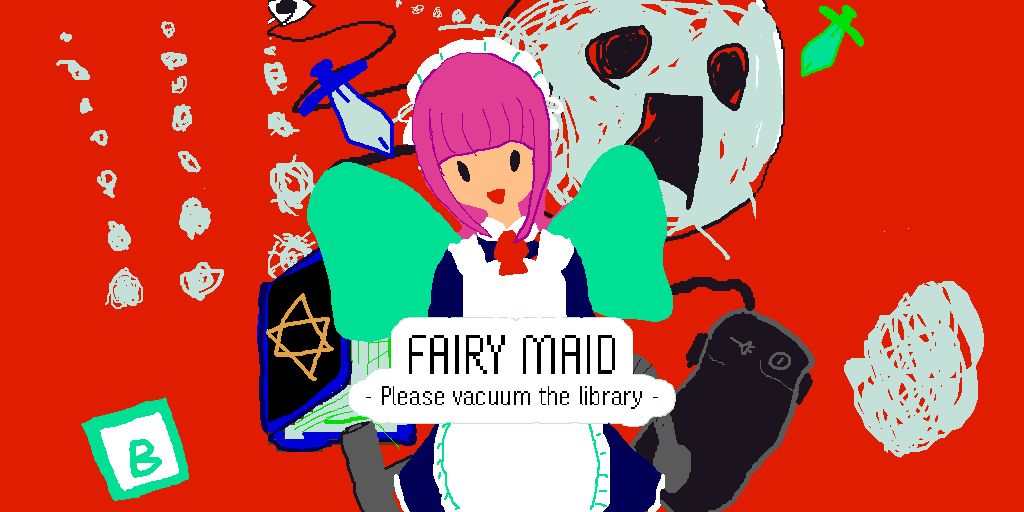 Fairy Maid (Please clean the library)
A downloadable game for Windows and Linux
Background
As one of the Scarlet Devil Mansion's Fairy Maids, you're tasked with vacuuming the library. Your job would be much easier if not for all the Kedama biting off the cord to your vacuum cleaner. Is it because they feel a connection with all the lumps of dust on the floor? Or is it self-defense?
This game is a clone of 1982 arcade maze game Anteater. Released for the 40th anniversary of Anteater and 20th anniversary of Touhou 6.

Gameplay
You lose a life if a Kedama touches the cord of your vacuum cleaner.
You can defeat Kedama by touching them.
Books can only be defeated from behind.
Sakuya cannot be defeated, and she will be mad if you aren't done in a timely manner.
Bombs clear the screen. Even Sakuya fears them!
Controls
Arrow keys: Move
Z: Retract cord. (Moves backwards quickly)
Gameplay tips
The enemy on a given row takes a while to respawn. Defeat the upper enemies to create time windows where you have the opportunities to go deeper.
The game gets more difficult on higher levels, so its a good idea to milk the earlier levels if you can.
Made as a submission to the Touhou Station Game Jam 2022. Theme of the game: Beni.
Touhou Project original concept, characters, and other elements are the property of ZUN and Team Shanghai Alice. This game is a fanmade work made according to the official guidelines. It is not affiliated with or endorsed by the original creators.
Download